Natural history of Highland Guan (Penelopina nigra)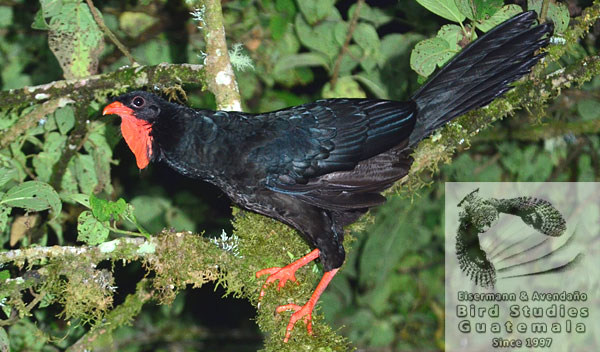 Knut Eisermann and Claudia Avendaño supported studies on the distribution, habitat use, nesting ecology, vocalizations, and consevation of the Highland Guan. Most recent distribution data are compiled in: Eisermann, K. & C. Avendaño (2018) An update on the inventory, distribution and residency status of bird species in Guatemala. Bulletin British Ornithologists' Club 138: 148-229. PDF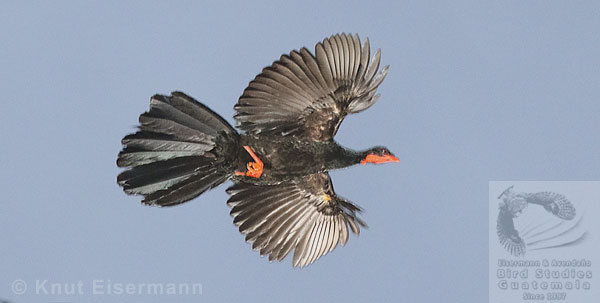 A comprehensive natural history of this species was presented in an account at Neotropical Birds Online of the Cornell Lab of Ornithology:

Eisermann, K. (2012) Highland Guan (Penelopina nigra), Neotropical Birds Online (T. S. Schulenberg, Editor). Cornell Lab of Ornithology, Ithaca, NY. Online:
http://neotropical.birds.cornell.edu/portal/species/overview?p_p_spp=80391

Previously, Knut Eisermann provided data on the distribution in Alta Verapaz, and in collaboration with SalvaNatura (El Salvador) they provided an update on the distribution of the species an an vulnerability assessment:

Eisermann, K. (2005) Noteworthy bird observations in Alta Verapaz, Guatemala. Bulletin of the British Ornithologists' Club 125: 3-11. PDF

Eisermann, K., N. Herrera & O. Komar (2006) Highland Guan (Penelopina nigra). Pp. 85-90 In: D. M. Brooks (ed.) Conserving Cracids: the most threatened family of birds in the Americas. Miscellaneous Publications of the Houston Museum of Natural Science 6. PDF

Based on the vulnerability assessment Highland Guan was uplisted from Near Threatened to Vulnerable in the BirdLife / IUCN Red List of globally threatened birds in 2007.